News
2035: Bitcoin achieves the most dantesque bull run it has ever seen [Crypto Dystopie]
What will our world be like in 2035? – Our favorite cryptos will they have disappeared or will they be more than ever at the heart of our lives? Will the Bitcoin blockchain have changed the face of the world? We had fun, through little stories, to imagine our world in the not so distant future. The story that follows is fictionalized, imaginary, without any pretension to guess the future. Have fun with us and embark in the DeLorean JDC, direction 2035!
Bitcoin, towards a revolution in the way of working?
2035, the bull run of the adoption of States?
Posted on the terrace of the Café du Théâtre, Thomas enjoys his morning coffee while listening to the radio through his headphones.
— …as you say, Bernard, for a surprise it's a surprise, the USA adopting the Bitcoin as legal tender.
'We saw it coming, Jerome. Rumors had been going around for months… They weren't going to stay behind indefinitely.
— Except that now it's Europe that's in the lurch…
— Oh, we won't change Europe. It is not for lack of having warned our leaders. For years we have been harping on that adoption is inevitable. And in the end, we redo a Internet bis.
Eyes riveted on his smartphone, Thomas scans the news one after the other. In his heart of hearts, he exults. His long-term bet paid off. This morning the price of Bitcoin has doubled. This digital gold is becoming such a rare commodity these days…Rare and expensive. Very expensive.
2035, the advent of co-working spaces?
10 a.m. – Head to Le Paon, a coworking space located a few meters away. These places have multiplied in recent years due to the influx of new entrepreneurs. Now people want to be free to work for themselves, with no boss to dictate their conduct. This trend is growing strongly among young people who do not want their parents' lives.
Work within the same company all his life to be thanked at 70 by a miserable retirement, no thank you. Thomas is part of this movement.
10:05 a.m. – Thomas greets his office neighbors. Marie-Cecile, digital artist and Rodolphe, programmer for a blockchain start-up. For his part, Thomas is in transition. He left his trader's job for writing educational content on finance.
His goal ? Transmit the spirit of the investor to high school students. That once they get their first job, they have this reflex. Nowadays, without investing, it's hard to get by, with high inflation and wages that are struggling to keep up. Investing is so natural on the other side of the Atlantic. He must dismantle these principles according to which one should not approach this monstrous beast that is finance. While the financial market has been doing like a charm for years.
>> Earn up to 8% compound interest on your cryptos? It is possible with FTX Earn (commercial link) <<
Cryptos, safe conduct to financial education?
2035, towards a better understanding of the economy among young people?
12:30 p.m. – Thomas and his college Richard quietly join the Place du Marché aux Fleurs, chatting under the sun. They are going to have lunch at the Saint Raph.
— You see, Richard, investment is a notion that is sorely lacking in education, exclaims Thomas. Our politicians keep repeating that investing is dangerous. So much so that citizens have come to terms with this idea.
– You have to know what you're doing, all the same, Richard replies, skeptical.
— Exactly, just as one does not calculate the hypotenuse of a triangle by tossing a coin. We just need to educate our young people.
2:10 p.m. – Thomas hurries along the Esplanade Charles de Gaulle. He has an appointment with the director of the Joffre high school. He crosses his fingers and hopes to get a few hours of teaching for the end of the year. Or for the next school year. He has so many things to teach them to these blond heads. Finance, DCA, using a digital wallet… Nowadays, it is essential.
And young people are getting into it anyway, because this field attracts them. So as long as they are prepared.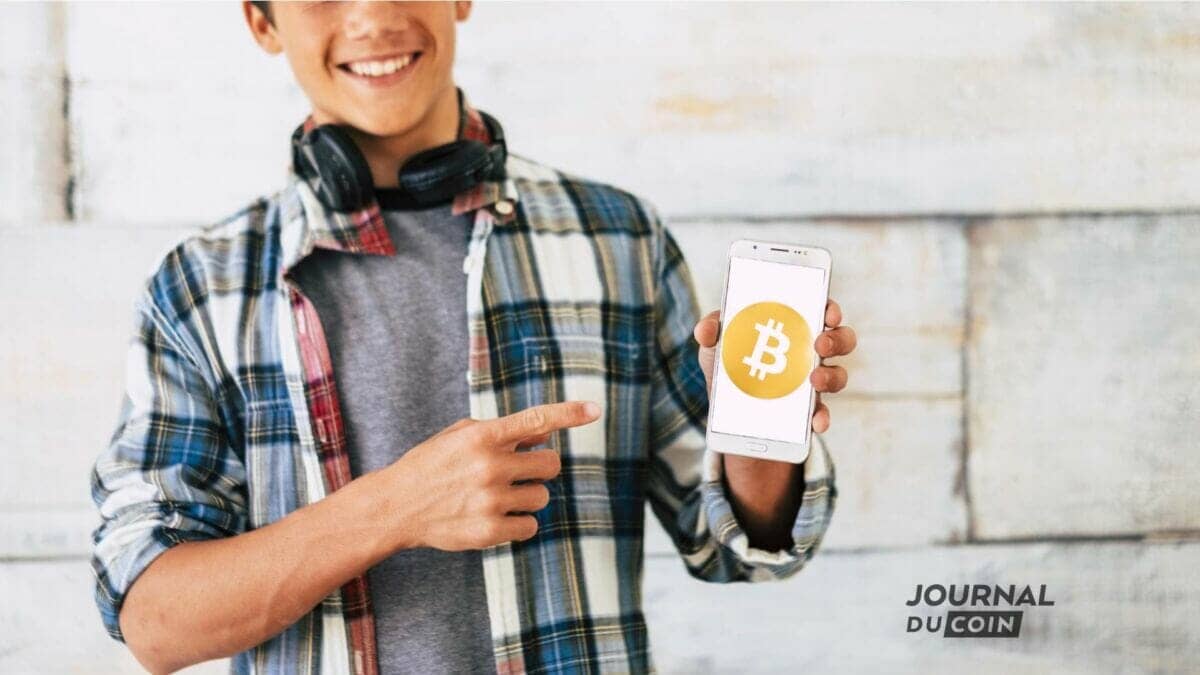 2:25 p.m. – Thomas enters the principal's office.
"Hello Mr. Toquatchope, take a chair, please. If I understand correctly, you want to teach my students finance, right?
Thomas greeted his interlocutor then began his argument…
4:15 p.m. – Thomas is almost surprised to jump for joy while strolling in the direction of the Espace Polygone to do some shopping. He found a slot in mid-June. By reflex, he takes a quick look at the lessons. The crypto market has climbed again since this morning. What a day !
6:30 p.m. – Arms loaded with bags of clothes, Thomas decides to settle down for a few minutes in the gardens of the Promenade du Peyrou in order to take advantage of the sun and the perfect temperature of the day. Definitely, it's a Tuesday like no other.
2035, an old world disappearing in favor of the new?
8:15 p.m. – Back home, Thomas turns on the TV and starts the live Decrypt the 1fo, the Twitch news channel that has now replaced TF1. Many Twitch lives relay news 24 hours a day now, driven by various media, independent or not. The classic TV channels, TF1, FR2, M6, no longer exist. Kept alive by an aging public, they have not been able to renew themselves and attract young people.
Now it's the web giants like Youtube or Netflix the masters of entertainment.
10:30 p.m. – A notification lights up on Thomas' cell phone as he sleeps in front of season 9 of Rings of Power, the flagship series of Amazon Prime Video. It's a tweet from the Journal du Coin.
'Breaking: Europe in turn adopts Bitcoin as legal tender!'
Bitcoin legal currency in many countries within a few years? Even the most maximalist Bitcoiners don't believe it. It is indeed difficult to imagine that the States renounce with good grace their power over money. Nevertheless, the influence of cryptos and web3 may well revolutionize our society in some way. Via the modification of our ways of working, a familiarization with the world of finance and its close links with politics. Awareness particularly exacerbated among the younger generations. Just as Covid 19 has had an impact on our way of understanding health, cryptos could shake up our way of conceiving the economy. Could this be the beginnings of a growing desire among citizens to regain control of their data, their money and ultimately their freedom?
Bitcoin is tough and resilient. Tomorrow or in some time, you will be happy to have bought some during the crisis. Don't wait too long to take advantage of the current purchase conditions! Register without delay on the FTX reference crypto exchange platform. In addition, you benefit from returns of up to 8% on all your assets (commercial link, see conditions on official website).