Business
The Fees Charged By Banks For Making Advances With Your Credit Card!
Credit card advances are a financial product that allows people to free up a percentage of their plastic quota in cash. However, this action generates additional charges, which depend on each entity, which often makes it a not very friendly option for your pocket.
Depending on each credit establishment, the charge can be a one-time fee for each withdrawal or a percentage of the amount withdrawn. Generally, the bank will allow you to release up to 50% of your card capacity in cash; however, some entities of the system have increased this amount to 100% of the quota.
The rate charged by banks may change depending on the type of card or the place from which the advance is made. Some entities such as Scotiabank Colpatria, Bancolombia, Itaú, and Giros y Finanzas do not charge a commission if the cash withdrawal is made directly from a bank branch. However, this is subject to the advance being greater than an amount determined by the bank.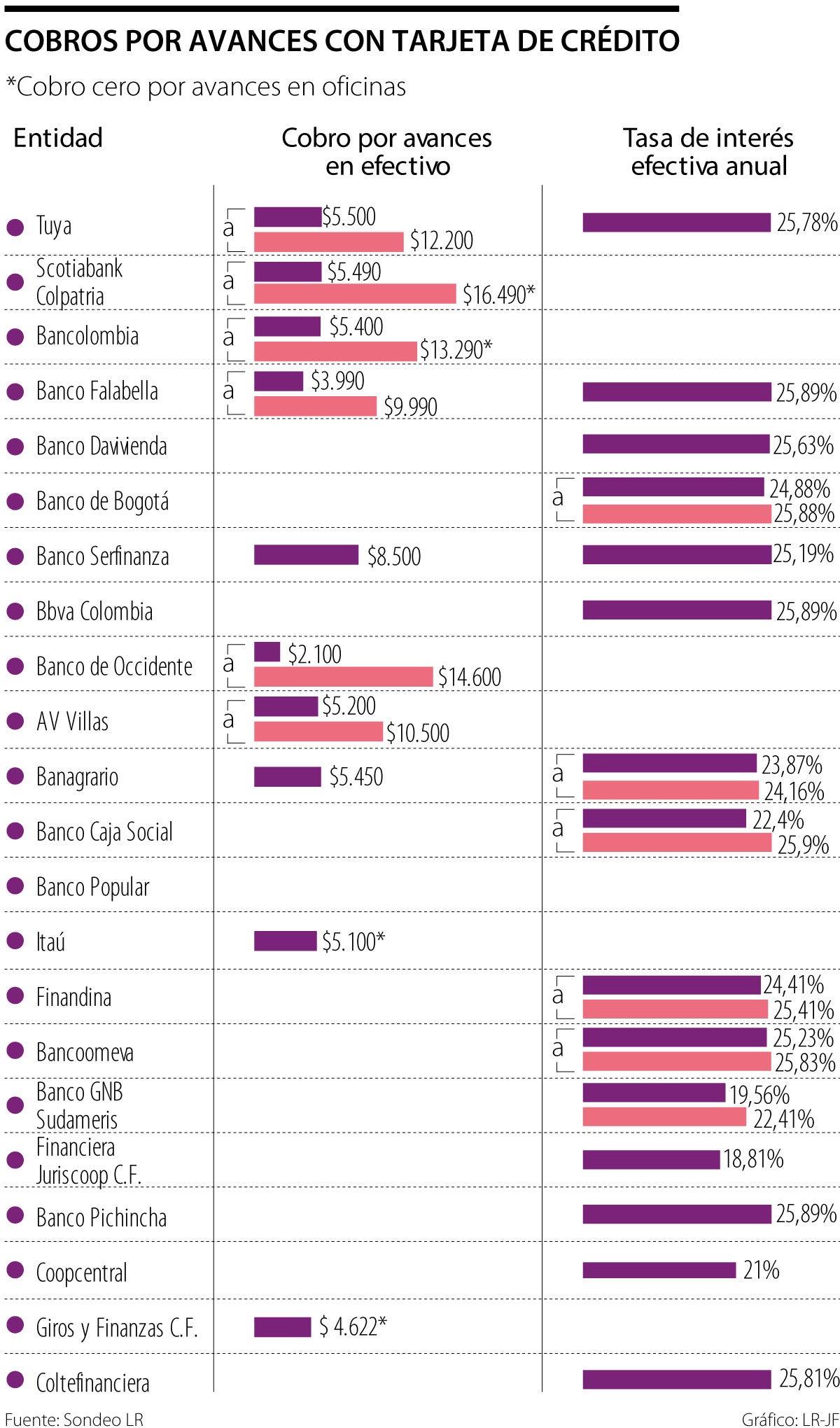 In contrast, if the withdrawal is made from an ATM in the same network or other banks, it does generate a cost. Scotiabank Colpatria has the highest rate, with a charge of $ 16,490, while the lowest commission is handled by one of Banco de Occidente's products ($ 2,100). The average of this commission is close to $ 6,000 in other entities.
Other banks charge credit card advances with annual or month-overdue effective interest; Some are adjusted to the interest rate that the plastic handles during that month, a percentage that tends to stick to usury; and others generate their charge for this type of transaction.
Banco Falabella, Banco Pichincha, and Bbva are the entities that charge the highest interest rates for this financial product (25.89%), while most of the banks that offer this product remain above 25% interest. It is different when it comes to financing companies since Financiera Juriscoop has the lowest interest in the market for this product (18.81%).
A few years ago, this was a popular product due to people's need for cash and the debt capacity of Colombians, but after the pandemic, this changed, digital transactions gained ground, reducing the use of cash.
"One of the fundamental points of the use of cash is that people can deal more virtually and directly with their bank accounts safely and cheaply. One of the great challenges we have now is to achieve the interoperability of all QR codes; Due to its economy, this type of technology will open opportunities for small businesses to become bankable, this should result in a reduction in the use of cash, "said Hernando José Gómez, president of the Colombian Banking and Financial Entities Association.
The adoption of digital financial products grew by two digits and even three in some entities of the national system. Digital payments in micro-businesses are now a reality. Therefore, you should consider this alternative before resorting to making an advance with a credit card.